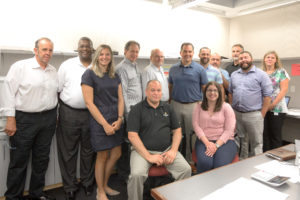 To everyone else it's Thursday, July 6, 2017. But to a core group of estimators, it's Bid Day at Walbridge.
Estimating executives and subject matter experts file into a room in Detroit at 8 a.m. to collect data and crunch numbers. Within two hours, all of it will be compiled into a bid and submitted to a client who will decide whether or not to award Walbridge a new job.
It's like "Draft Day" in the NFL, where executives with years of experience at talent evaluation make last-minute phone calls to coaches and insiders to vet the strengths and weaknesses of highly regarded college football prospects.
In the case of Walbridge's Bid Day, an estimating team is in hot pursuit of the most-credible subcontractor bids to win a major new job.
Mike Smiley, Vice President of Estimating, is leading the charge today. He moves from managers to coordinators, checking to see if bids have come in for plumbing, earthwork, final cleaning, and other items across a dozen categories. Randy Abdallah, EVP and head of Walbridge's Get Work group, stands by and observes the bee-hive of activity.
When bids come in, coordinators are asked for an assessment of how a number compares with Walbridge's expectation for cost of the work. Sometimes it's high, so a "plug-in" number for that item stays on the board and coordinators call other subcontractors for bids they can compare to the first.
Sometimes a subcontractor's first number is lower than expected. "Call him back and make sure he's comfortable with his number," Abdallah tells one coordinator.
Everyone's on the clock as Walbridge's bid is due by 10 a.m. Eastern. Phones are pressed to ears. One unanswered mobile phone buzzes atop the long table inside the bid room. Calls continue to go out to subcontractors.
"This is George Dobrowitzky from Walbridge…"
"Hi, it's Rachel Wilber with Walbridge…"
"Have him call me back."
Updated numbers are collected and inputted into a laptop by Project Director Mike Kuhlmann. His computer is one of a dozen active machines in the room. At 9:20 a.m., Smiley calls for a review of all bids received to that point. Estimator Rachel Wilber recites estimates for metal wall panel systems and a single ply membrane roof. A last-minute bid for cast-in-place concrete comes in and a scramble ensues to see if it beats the current number.
Then the focus moves to the cost for blast-resistant doors.
"Do your numbers include sales tax?" Kuhlmann asks an estimator.
"Plus installation, right?" Smiley adds.
Several figures for the doors fly around the room and the chatter increases.
"Stop," Abdallah calls out suddenly, silencing the room. "Use the current number and I don't want to talk about it anymore. That's not going to win the job."
As the clock ticks toward 10 a.m., Abdallah advises the group to pin down final numbers and prepare to submit the bid. After a final review, he says, "Let it go."
Smiley calls out the final bid price and the bid document is submitted electronically.
"If that doesn't get you a job, I don't know what will," Abdallah concludes.
Here's where Draft Day and Bid Day diverge. There are no high-fives or lighting victory cigars in the Walbridge Bid Room. The team takes a breather for a few minutes, then gets back to work finalizing numbers for Owner Alternates, which are due later in the day.
"It gets a little stressful and exciting at times," Smiley said. "But you really have to stay focused on your assignment, and call people and keep calling them until you get a realistic number. If we do our job, we stand a good chance of winning the client's business."