The University of Michigan's Ann Arbor campus was beyond busy during the summer of 2014.
Crews worked diligently to complete the new Munger Graduate Residences, a massive 370,000-square-foot facility. Meanwhile, across Thompson Street and only a stone's throw away, renovation work was speeding ahead on the 370,000-square-foot West Quadrangle Residence Hall.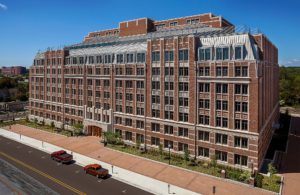 With two complicated projects going on side-by-side, chaos could easily have developed. Deliveries to one project could push the schedule back on the other. Critical work at Munger that required giant cranes could have temporarily shut down work on part of the West Quad project.
But that didn't happen.
Why? It's simple:
We've been tackling projects full of complexity for 100 years. We have tested, improved and maintained proven processes that are hard-wired into our operational thinking and company culture.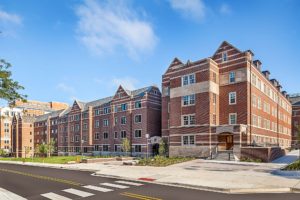 From the start of both projects, Walbridge engineers and estimators worked vigorously to prepare a perfect plan of action, working closely with the architect and owner.
An established schedule set the tone for an orchestrated effort at both Munger and West Quad. The two projects were completed on time, within scope and looked incredible to the more than 1,500 students that would reside in the buildings.
An experienced and dedicated project team kept work flowing on both facilities, while keeping one another informed of progress.
Understanding customers and building the best
Those same practices are standard operating procedure for Walbridge.
The Walbridge team is experienced and built to lead. Our safety program focuses on demanding safe work in all facets of business. There's an acute understanding of what our customer is looking for and a desire to not only achieve that goal, but surpass it.
From beautiful education projects, to massive automotive projects or community-changing facilities, Walbridge's commitment to service and adding value shines through.