Boydton, VA – With a big smile, David Robson spent Tuesday, Dec. 19 carrying boxes full of toys and clothes – preparing to deliver some holiday cheer.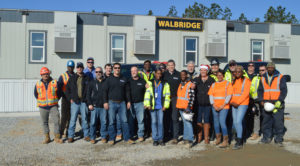 Robson, a vice president at Walbridge and Community Engagement Officer for the Microsoft Data Center build in Boydton, Virginia, was among many employees delivering the toys and spreading cheer in a holiday effort by the global construction management firm along with client, Microsoft.
Walbridge and Microsoft teamed up with subcontractors ACI, Covenant Steel, Fessler & Bowman, IES, MC Dean, Silent Aire and tradespeople from the job to deliver toys and clothing to children throughout Virginia's Mecklenburg County through its Department of Social Services (MCDSS) 2018 Christmas Program. The partnership means a holiday season full of gifts more than 400 Mecklenburg County children.
Employees from all the partners teamed up to deliver the packages and gifts. For every child, the team purchased a winter coat, two outfits, pajamas, boots or shoes, an educational toy and several age appropriate toys.  Toys included Legos, video games, Easy Bake Ovens, Barbie dolls, action figures and other books, board games and art sets.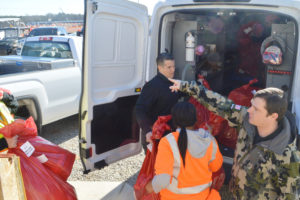 "As a company, we strive to make an impact not only with our client, but with the entire community," Robson said. "We're thrilled Walbridge, Microsoft, and these awesome subcontractors could come together to make Christmas morning a little more special for these children."
The MCDSS Christmas Program is 100 percent funded from local businesses, organizations, churches and citizens in the Mecklenburg County area.
"Microsoft is pleased to team with Walbridge, our construction partner and their vendors at the Microsoft Boydton Data Center, to support the Mecklenburg County Department of Social Services and their holiday toy drive," said Nathan Hamm, IT Operations Manager for the Microsoft Boydton Data Center.  "Participating in the toy drive is an important part of how we support and give back to the local community that has been so welcoming and supportive of Microsoft."
MCDSS Director Sandra Gregory said everyone in the county is "tickled to death" and the holidays will be extra special for the children.
"We have 800 children through this program this year and the partnership prepared gifts for more than half of them," Gregory said. "You have no idea what it means."
As the day winded down, Robson and the entire Walbridge team were thankful for such an impactful partnership.
"This is what the season is all about," Robson said. "I'm excited to hear all the stories about local kids waking up to a special Christmas and honored we could play a role in that."