Walbridge earned its stripes with Ford Motor Company by building a lot of manufacturing facilities for the global automaker. But one unique endeavor between the two has slipped under the radar screen for nearly 50 years.
In the early 1970s, Ford Land Development, a subsidiary of Ford Motor Co., decided to test an automatically controlled transportation (ACT) system. Ford Land brought on Walbridge to construct a test track on property at Cherry Hill Farms near Ypsilanti.
John Moriarty, who worked for Walbridge from 1972 until he retired in 2013, recalled getting a call from "the boss" about the project. The boss was Ray Beaudoin, Walbridge's Vice President of Construction at the time.
"He said it was a pretty intricate layout and surveying job," Moriarty said. "That's what I did before I got into construction. The test track was a battle. You had to start out from nothing."
The flat track was set on concrete poured in place and there was a small bridge on the line, which "added a little incline," Moriarty said.
The test was a success, to the point that Ford decided to build a longer elevated track in Dearborn that would run between Fairlane Mall and an 800-guest room Hyatt Hotel being built nearby. The hotel was the second-largest hotel in Michigan when it opened in January 1976.
Moriarty remembers a Walbridge crew of about a dozen employees working on the Fairlane ACT system. Caissons were poured and columns were erected, then cross-heads were placed on top of the columns. Spans of track ran 60 feet between the cross-heads. Ford manufactured the cars, which were propelled by electricity.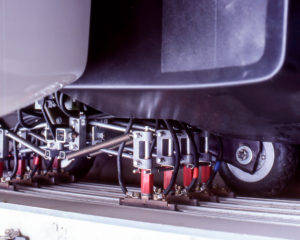 "They were similar to what was used on the People Mover in downtown Detroit," Moriarty said.
The Fairlane line "had a couple of big curves in it," Moriarty said, and transported people between the hotel and a Sears store at the mall. Ford wanted to sell ACT system cars to airports and for use in tight urban locations.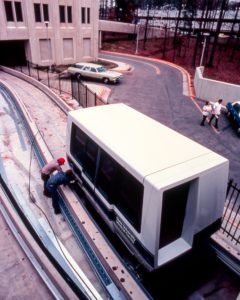 Walbridge went on to build a line for Ford at Bradley Air Field in Hartford, Conn. Testing of the track and two cars, which ran between the parking lot and airport terminal, was completed. Then a snag occurred. "The outgoing governor approved all of it," Moriarty recalled. "But the new governor decided running buses was less expensive." The ACT system was later removed.
Ford directed Walbridge to prepare for one more ACT project. "They asked us to work up a budget and schedule for a line that would run from downtown El Paso to the bullring in Juarez," Mike Haller, Walbridge Group President, said. The 7.8-mile transit system, which would cross an international border and terminate at Bullring Alberto Balderas, never came to fruition.
In the mid-1970s, Walbridge was hired by Dover Elevator to construct a small transit system running between a parking garage and a new facility at the Duke Medical Center in Durham, N.C. Moriarty was superintendent on the job.
When it came time to select a contractor to build a new People Mover system in downtown Detroit in 1987, Walbridge leveraged its experience with Ford's ACT system and the Duke line to win the job with joint venture partner Williams & Richardson. Moriarty wasn't on that job, but his brother, Mike, was.
NOTE: John Moriarty's daughter, Jennifer, is a Senior Project Engineer for Walbridge in Detroit.