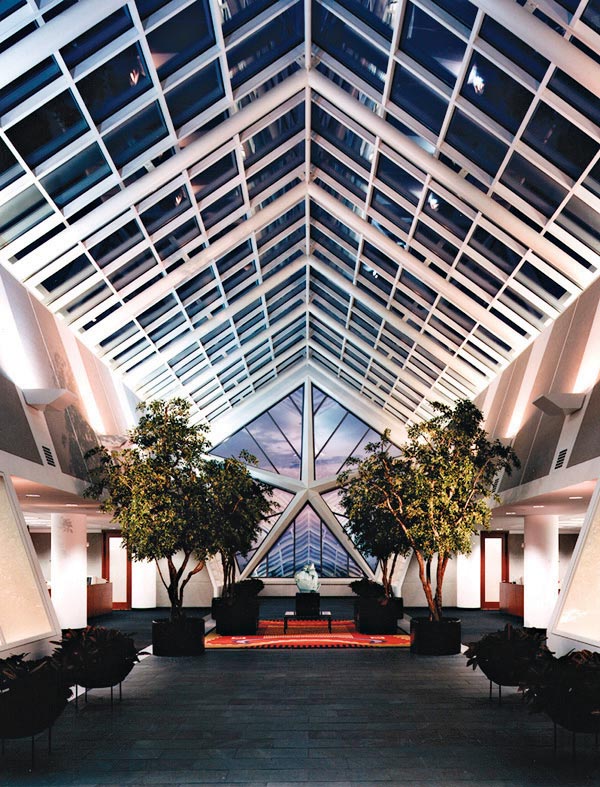 The Chrysler Technology Center (CTC) is 3.5 million square feet of office, research and development, computer, light manufacturing, training and data center space.
A two-story pentastar crowns the top of Chrysler Group World Headquarters' 15-story office tower, which is connected to its technology center by a four-story extension from the education center. A two-story commons building houses the headquarters lobby, conference rooms, meeting spaces and employee dining facilities. Parking is accommodated through multi-story underground and deck structures, and a surface lot.
The 15-story office tower was designed with a pre-assembled panelized glass exterior, open atriums, and flexible office space to foster a work environment of open communication, creativity, and teamwork. The 950,000-square-foot structure contains 106,700 square feet of granite-faced precast concrete panels, 192,800 square feet of exterior curtain wall and windows, 57,150 square feet of skylights, 10 escalators and 11 elevators.
Designed as the hub for all automotive research and development for the Chrysler Corporation, the center brings more than 7,000 of the company's engineers, designers and technicians into one central location. This mega-structure spreads out over 138 acres and rises four stories at its highest point.
It encompasses more than a dozen separate areas under one roof, including a central energy plant, data center, product design area, paint and anti-Corrosion facility, vehicle engineering office areas, a noise vibration and harshness (NVH) test facility, education center, wind tunnel, electromagnetic compatibility facility, powertrain test cells, an underground parking structure and dining facilities.