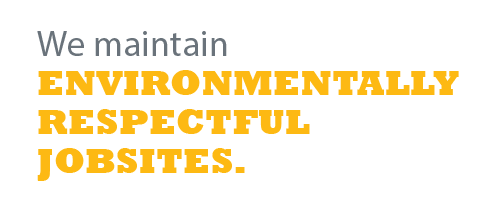 Building green improves the planet, can be more efficient and saves clients' money.
From completing a 454,000-square-foot "living" roof atop a truck assembly plant to sending scrap steel to be recycled into new vehicle parts, Walbridge has plenty of experience with sustainable construction.
With expertise in green construction for projects ranging from manufacturing to higher education, our teams are thoroughly trained to lower a project's impact on the environment.
LEED Projects
Producing incredible LEED-certified projects requires a close working relationship with the owner, designer and project team to ensure projects are resource efficient.
Our project teams built the largest LEED Platinum project in the United States and constructed modularized bathroom units that minimized waste and helped the project achieve LEED Gold status.
GreenWISESM
One of the ways we incorporate these green building techniques into every project is Walbridge's GreenWISESM program.
The program identifies 18 onsite environmental practices to lower a project's impact on the environment. That means saving energy, recycling and creating ways to be sustainable on the job.
Recycled or sustainable materials are used for items such as safety precaution tape or temporary handrails.
Timers and occupancy sensors shut off non-emergency lighting at the end of the day and turn them back on when workers return.
Whenever possible, our project teams utilize natural gas in lieu of propane for heating and permanent HVAC systems for cooling and dehumidification.
We aim to use sustainably produced wood and reuse it whenever possible. We recycle tons of wooden construction waste from each jobsite.
A temporary power plan is something our project teams develop prior to construction. When it's possible, we'll utilize grid power.
We identify emission standards in the scope of our work, use bio-diesel fuels whenever possible and source locally to reduce travel emissions.
Vehicles are not allowed to idle on our jobsites. Our teams maintain equipment per manufacturers' recommendations to ensure optimal performance.
Battery-powered tools are used whenever possible and batteries are always properly disposed of or recycled.
We train personnel in maintenance requirements and their advantages. Older equipment is retired before it becomes a liability.
Waste management plans and stringent recycling systems are put into place before construction begins. We enlist one-stop-shop waste haulers whenever possible.
Walbridge selects subcontractors that see the potential for achieving sustainable goals. All scopes of work are published with explicit instructions and goals.
We look for opportunities to capture rainwater and use it for dust control and watering landscaping. Water usage is monitored at all jobsites.
Fences made with high recycled content are preferred for our jobs, and we reuse them whenever possible or recycle their materials. Recycled, crushed concrete is used for road base.
Clearly identifying areas for storage space, recycling, emergency evacuation, and spill kits reduces the amount of congestion on our jobsites.
We look to purchase or build out trailers with skylights and windows for optimum lighting, as well as increased insulation and skirting to minimize warm and cool air loss.
Workers are encouraged to carpool to jobsites. We don't print documents in color unless it's absolutely necessary.
Supplies that are noted as made from recycled materials are our first choice, and we offer recyclable solutions to standard items wherever possible.
Maintenance of equipment and power-saving initiatives are applied at all times. We recycle end-of-life computers and toner cartridges.