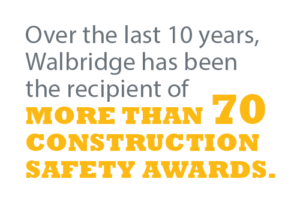 "Think, demand and deliver safety in all aspects of our business" are words that stand atop Walbridge's list of Core Values.
Requiring safe jobsites and safe behavior by our employees and subcontractors is imperative. Our industry-leading safety record is the result of training, continued focus and accountability. Thinking safety and acting safely are a requirement for everyone.
On site, safety is addressed three times per day by Walbridge during safety huddles, where potential hazards are identified and feedback by trades people is always encouraged.
The company follows the Safety FIRST approach:
FOLLOW Be disciplined to each process on every project.
INFORM We do this through orientation, pre-task analysis and safety huddles.
REVIEW effectiveness. We track safety observations made by supervisors and construction personnel through our "Stop, Look & Listen" program.
SHARE lessons learned. Safety-related incidents are forwarded all the way up to the top
TRAIN to be better and safer.

Zero Injuries, Zero Incidents
Our Corporate Safety Goals sum up how we feel about safety: Zero injuries; Zero incidents; Zero tolerance for unsafe behavior.
All employees and subcontractors participate in the Management and Unions Serving Together (MUST) program, mandating drug screening prior to stepping on a job site or starting a new job at one of our offices.
Walbridge Hours Worked Without a Lost-Time Injury: 13,837,296 (Oct. 16, 2003 – November 30, 2016)
Furthermore, Walbridge doesn't allow anyone at our construction sites to talk on a mobile phone or text – unless they're standing in a designated safe zone.
"If it's not safe, I won't do it and I won't let others do it," Walbridge Safety Motto.
Experience Modification Rate:

2018 EMR 0.68
2017 EMR 0.64
2016 EMR 0.69
2015 EMR 0.52
2014 EMR 0.54
2013 EMR 0.55
2012 EMR 0.57
2011 EMR 0.60
2010 EMR 0.58
2009 EMR 0.57
2008 EMR 0.53
(Industry average EMR is 1.0)