It is 5 p.m. and inside the Detroit Hispanic Development Corporation is a flurry of activity.
A bevy of students are huddled around computers as they code, discuss business and marketing ideas and engineer a new piece of their latest and greatest machine.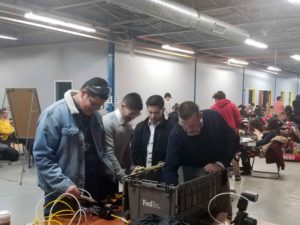 There's a tangible excitement in the room as one group of students comes up with the next innovative development for their robot, while another comes up with an exceptional business pitch to help fund their technological prowess.
Walbridge, DIG and DFM Solutions' work with the Detroit Cristo Rey High School FIRST Robotics team has been an opportunity to see engineering, business and technology growth in students. The team, known as the Kinematic Wolves 5577, has about 30 students actively involved.
The FIRST Robotics program is a chance for high school students to build their own robot that can participate in competitions, where the theme and scoring changes annually. Teams fundraise and build the robots themselves, all while changing coding, engineering the robots to perform different feats. They do all this after school, so outstanding teamwork is not only encouraged – it's a must.
With this year's theme of "Destination Deep Space," FIRST Robotics worked with Boeing to create a competition that will test participants in new ways, including not being able to see for the first part of their competition.
Walbridge, DIG and DFM Solutions have supported the Detroit Cristo Rey team through both donations and employee volunteers this season. Walbridge's Jake Millyard and Sheila Eicher and DFM Solutions' Richard Shipton have all volunteered their engineering, technology and business acumen to support student ideas and growth.
We'll follow the team through articles and social media posts through the team's competitions, which begin in March.