George Walbridge and Albert Aldinger, along with investors William Carter and Frank Halls, founded Walbridge Aldinger Co. in Detroit on March 11, 1916. Both men were college graduates with engineering degrees and each started a career in construction in the early 1900s. They even worked together for a time in Chicago at the renowned architectural firm headed by Daniel Burnham. Then, Walbridge traveled to New York to advance his career at large construction firms. Aldinger headed west and partnered with Carter and Halls to build a successful contracting business in Winnipeg.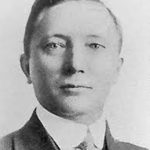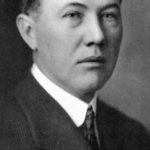 For reasons as yet uncovered, Walbridge and Aldinger somehow reconnected in Detroit in 1916 and founded a construction company based on core values of honesty and integrity. The two men remained partners for more than 25 years. What they started has become a global construction firm noted for its ability to corral large, complex projects and bring them in on time and on budget.
"We are team members of a proud heritage. All of us owe a debt of thanks and gratitude to those who preceded us in building this family, this great company. We must continue this proud heritage as a passionate, relentless, street-smart team, focused on our core values and each other. If we do, we will prevail in the next 100 years."
Company Milestones and Top Projects
Drag the dial to navigate our timeline.
1916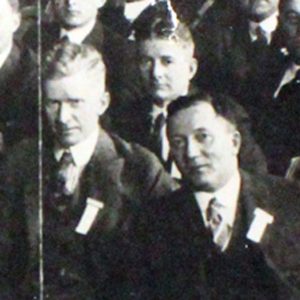 Walbridge Aldinger Co. (WA) is founded in Detroit on March 11.
1917
13-story Book Building is completed in downtown Detroit.
New Lincoln Motor Co. plant is completed for aircraft engine manufacturer Henry Leland.
1918
George Walbridge resigns from company to accept commission in Army Reserve Engineers Corps, and oversees construction of large U.S. military training camps.
1919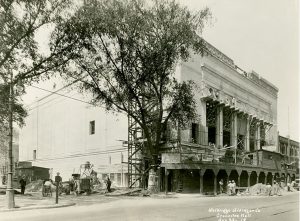 Orchestra Hall in Detroit is built in five months and critics hail its outstanding acoustics.
Maxwell Motor Company plant is completed.
Fisher Body Company Plant No. 21 opens on Piquette Avenue in Detroit, a stone's throw from Henry Ford's original workshop.
George Walbridge returns to WA at conclusion of World War 1.
1921
Lonyo Road sewer is completed in Detroit.
1923
Henry Ford buys assets of Lincoln Motor Company and converts plant into auto-making facility.
1925
George Walbridge becomes president of the Associated General Contractors of America.
1926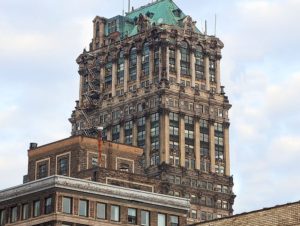 Construction completed on 36-story Book Tower in Detroit.
Detroit Towers, one of America's first high-rise residential towers built with reinforced concrete, opens.
An extension of Ford Motor Company's engineering lab in Dearborn, MI is finished.
1927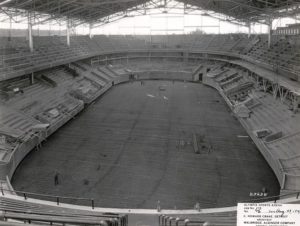 Olympia Sports Arena opens in Detroit with the world's largest indoor ice rink.
Foundation work is completed on Michigan Stadium ("The Big House") in Ann Arbor, MI.
1928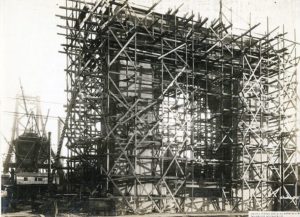 WA completes approach piers on the U.S. side of the Detroit River for the Detroit-Windsor Bridge, which opens as the world's-largest suspension bridge.
1929
New Hudson Motor Car Co. garage and showroom opens in Detroit.
Chrysler assembly plant is constructed in Walkerville, Ontario, Canada.
1930
Foundation work is completed at Ford Motor Company's Rouge complex in Dearborn, MI.
1931
George Walbridge joins a select panel of U.S. construction and engineering experts to evaluate early construction of Hoover Dam in Nevada.
1936
WWJ, the first radio station in America to broadcast news, opens a 5-story office-studio designed by Albert Kahn.
1937
Plant additions are completed at the Detroit mill of long-time client McLouth Steel.
1939
All-female dormitory, Stockwell Hall, opens at the University of Michigan.
1941
On the eve of World War II, work progresses at Lake City Ordnance Plant in Independence, Mo.
1942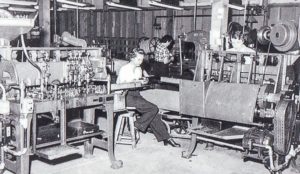 Weeks following a surprise attack by Japanese aviators on U.S. armed forces at Pearl Harbor, Hawaii, the size of a new ordnance plant scheduled for construction near St. Paul, Minn. is doubled.
Company co-founder Albert Aldinger dies in Detroit at the age of 64.
George Walbridge becomes president.
1943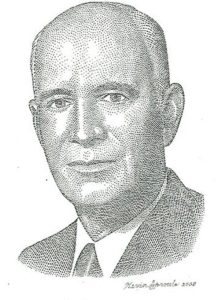 Roy Pickett succeeds George Walbridge as company president.
Walbridge becomes chairman.
1944
Additions are completed at the Hudson Motor Car Co. plant, Detroit.
1945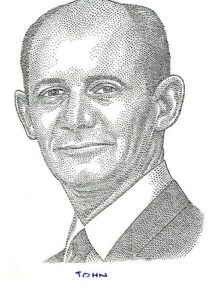 Young Detroiter John Rakolta, serving as First Officer on board a U.S. Army Air Corps B-26 Marauder, is shot down with his crew during a bombing mission over Auhus, Germany.
Rakolta survives and spends several weeks in a German prisoner of war camp before his release and return to the United States.
He joins Walbridge Aldinger Co. as a timekeeper.
1946
Work is underway on construction of a new McLouth Steel mill in Trenton, MI.
1955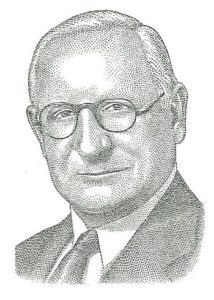 In May, George Walbridge resigns as chairman and severs ties with the company (a month later, he dies at the age of 80).
Roy Pickett sells all of his shares in WA and becomes chairman, serving without compensation.
G.K. Chapman becomes president.
1956
G.K. Chapman and his two proteges, Robert Robillard and John Rakolta, Sr., attend the annual American Institute of Architects conference in Detroit.
1964
G.K. Chapman, who joined the company in 1928 as timekeeper, dies at the age of 66.
Robert Robillard becomes president and John  Rakolta, Sr. becomes company secretary.
1966
Walbridge Aldinger Co. marks its 50th anniversary.
1967
Ford Motor Company opens its newest vehicle assembly plant in St. Thomas, Ontario, Canada.
1968
Ford's new casting plant opens in Flat Rock, MI the future home of the Ford Mustang.
1969
Ford opens a new truck assembly plant in Louisville, KY. and produces the Ford L-series.
Roy Pickett, who supervised construction of key military ammunition manufacturing plants during World War II, dies in Detroit at age 83.
1970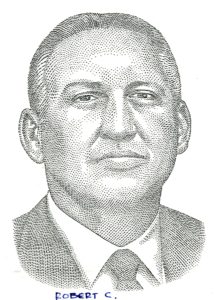 Robert Robillard sells his shares in Walbridge Aldinger Co. to John Rakolta, Sr. and leaves the company.
Rakolta becomes president, chairman and CEO.
1971
John Rakolta, Jr. graduates with a B.S. in Engineering from Marquette University and later joins Walbridge Aldinger Co. as an estimator.
1973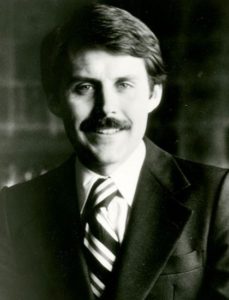 John Rakolta, Jr. becomes company president. With Operating Engineers on strike, Teamsters use horses to grade the surface in preparation for a concrete pour at Ford's Romeo, Mich. engine plant.
1974
New headquarters of the American Automobile Association are completed in Dearborn, MI.
1976
A large addition is completed at the Chrysler plant in Kokomo, IN. Walbridge accepts "K" cars from Chrysler as partial payment for its work.
The new Fermi II nuclear generating station, once busy with 800 workers, is commissioned near Monroe, MI.
1977
WA is the maintenance contractor during construction of the Fermi II nuclear generating station in Monroe, MI.
1981
Work is finished at a Ford engine plant in Chihuahua, Mexico, marking completion of WA's first project in a non-English speaking country.
1984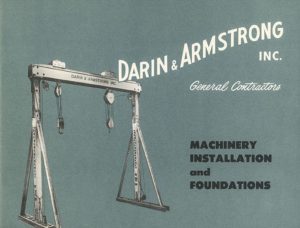 WA acquires contractor Darin & Armstrong of Southfield, MI, along with Gulf Constructors Int'l of Tampa, FL and King-Hunter of Greensboro, NC. Combined operations placed WA among the top 50 contractors in the U.S. with annual revenue exceeding $700 million.
In a joint venture with Williams & Richardson, Walbridge Aldinger constructs elevated guideways and related structures for Detroit's 3-mile "People Mover" transit system.
1985
Walbridge, J.M. Foster and Motor City Electric team to construct the world's-largest electrogalvanized steel mill for Rouge Steel and U.S. Steel in Dearborn, MI.
1986
A twin-strand continuous caster project at Ford's Rouge complex in Dearborn, MI is completed, marking WA's first major design-build industrial project.
1987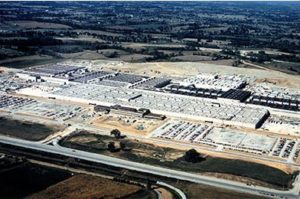 Work is completed on a new powertrain plant for Toyota in Georgetown, KY, marking Walbridge's first project for the automaker.
1988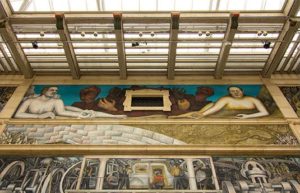 Renovation of Diego Rivera Court is completed at the Detroit Institute of Arts. It's home to the Detroit Industry fresco style mural conceived and painted in 1931-32 by the famed Mexican muralist.
1991
Walbridge Aldinger Co. celebrates its 75th year in operation.
1992
One Detroit Center, a 44-story, 1.5-million-square-foot office tower constructed for Hines Interests, opens in downtown Detroit.
Former company president Robert Robillard, a Mason and World War II Navy veteran, dies at the age of 69 in Oxford, MI.
1993
WA completes a four-facility press modernization program for Ford Motor Company (Buffalo, NY, Chicago Heights, IL, Woodhaven, MI, and Walton Hills, OH).
John Rakolta, Sr. steps down as chairman and CEO and is named chairman-emeritus.
John Rakolta, Jr. becomes chairman and CEO.
1994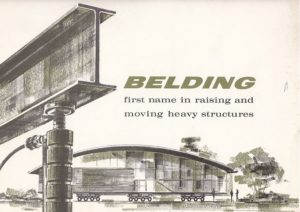 WA acquires Belding, a heavy equipment transportation and installation contractor in Chicago.
Chrysler's 3.5 million-square-foot technology center is completed at a cost of $750 million in Auburn Hills, MI.
WA becomes the first construction company awarded Ford Motor Company's Q1 quality award.
1995
WA completes its first full-service paint shop for Ford in Oakville, Ontario, Canada.
1996
Chrysler's 950,000-square-foot world headquarters is completed at a cost of $200 million in Auburn Hills, MI.
1998
WA becomes the first construction company in the United States to register ISO 9001 (v 1994).
Ford's new assembly plant in Chennai, India opens.
1999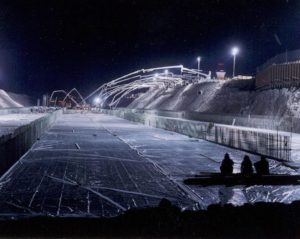 WA achieves a world record by pouring 21,000 cubic yards of concrete within 24 hours during construction of a new tunnel underneath taxiways at Detroit Metropolitan Wayne County International Airport in Romulus, MI.
2003
John Rakolta, Sr., former president, chairman, CEO and Chairman-Emeritus, dies at the age of 80 in Bloomfield Hills, MI.
Work on the 15-story, 1.1 million-square-foot Compuware world headquarters building is completed in downtown Detroit.
WA completes Ford Heritage 2000 Redevelopment Program at Ford Rouge complex, including installation of the then-world's largest living roof.
2006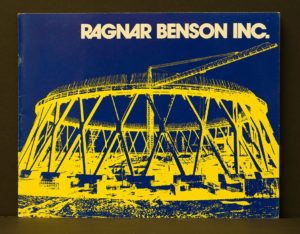 WA acquires the Pittsburgh office of contractor Ragnar Benson.
2007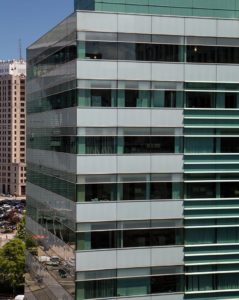 The company strengthens its commitment to being a Detroit-based business by moving its headquarters to 777 Woodward Avenue in the heart of the city.
2008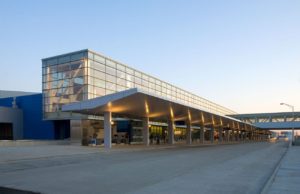 Following extensive examination of its brand and corporate identity, the decision is made to remove "Aldinger" from the company name. The new moniker "Walbridge" is introduced.
The new North Terminal at Detroit Metropolitan Wayne County International Airport opens (a joint venture with Barton Malow).
Construction is completed on North America's largest railcar manufacturing facility in Alabama.
2009-2010
Pre-construction work on futuristic Masdar City in Abu Dhabi, UAE is underway as Walbridge and partner Amana Construction build parking decks for a personal rapid transit (PRT) station.
North Quad, a $152 million residential and academic facility, is completed at the University of Michigan.
2014
Work is completed on a 6-million-square-foot automotive manufacturing complex, including supplier park, in Goiana, Brazil for Fiat Chrysler Automobiles.
walbridge.completes the successful 21-day changeover of Ford's Dearborn Truck Assembly Plant, allowing the vehicle manufacturer to switch to production of an aluminum body for its highly popular and profitable F-150 pick-up truck.
A new Church of Jesus Christ of Latter-Day Saints temple opens in Cordoba, Argentina.
2015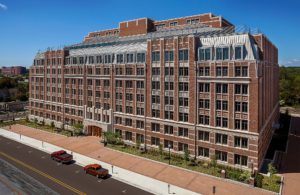 Work is completed on the new Munger Graduate Residences at the University of Michigan, which includes 730 bathroom units that were constructed by Walbridge at a nearby manufacturing facility (one of the largest uses of modularization in higher education construction in the U.S.).
Construction begins on 1855 Place at Michigan State University in East Lansing. It includes 300 units of rental housing for families and married students, a 102,000-square-foot mixed-use office building, two-story parking structure with 880 spaces, and retail space.
General Motors selects Walbridge for an integral role in the full-scale, $1 billion redevelopment of its 710-acre research and development center in Warren, MI.
2016
Ford selects Walbridge to manage key construction projects as part of a multi-year, $1.2 billion transformation of its R&D campus in Dearborn, MI.
Walbridge celebrates its 100th year of continuous operation.