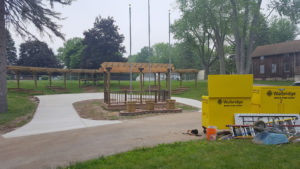 Monroe, Mich. – A helping hand had a big impact for Monroe-area youth this summer.
Walbridge donated equipment and man hours to the Monroe County Intermediate School District's Holiday Camp to construct the camp's outdoor auditorium for music and entertainment.  The auditorium consists of new seating, cantilevered trellis, performance stage and paved concrete access. The renovation was created in memory of camper Brandon Savage, who loved music, and in memory of his father, Keith.
On July 12, the project team, MCISD, Holiday Camp Board and campers enjoyed a dedication ceremony, with music and ice cream, putting the new stage to good use.
The camp, around since 1954, provides summer programming for Monroe County youth with disabilities. On a three-and-a-half acre site, the camp brings young people together for swimming, sports, arts and crafts and outdoor recreation.
About 150 children and youth attend the camps throughout the summer.
"Holiday Camp is a group dedicated to the community and I'm thrilled we could be a part of helping to improve the property," said Jeremy Zeller, Walbridge Director of Projects. "The excitement and appreciation by the members of MCISD made the project rewarding to all that participated."
Owned and maintained by the Monroe County Intermediate School District, the summer camp is an agency of the United Way of Monroe County. The nonprofit offers eight weeks of camps, overseen by a director and counselors and assisted by many community volunteers.