DETROIT, Mich. – Organizations are recognizing Walbridge's commitment to healthy employees as well as being among the area's "Best and Brightest."
Walbridge is among Metropolitan Detroit's Best and Brightest Companies to Work For® in 2017, while also being named a 2017 Healthiest 100 Workplaces in America winner. It marks the 15th-straight year Walbridge has been honored as a Best & Brightest company and the fourth-straight year for the Healthiest 100 award.
The 2017 Best and Brightest award "honors organizations that display a commitment to excellence in their human resource practices and employee enrichment." Company assessment is based on communication, work-life balance, employee education, diversity, recognition, retention and more.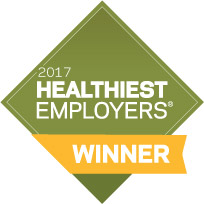 The Healthiest Employers organization is an innovative awards program created to recognize those companies that proactively shape the health of their employees. These companies have made a commitment to impact the health of their workplace … and their bottom line.
Healthiest Employers has worked with over 8,000 employers and 60 percent of the Fortune 100.
"We are dedicated to providing our employees with an exceptional working environment," Terry Merritt, Walbridge Senior Vice President of Human Resources, said. "Walbridge is thankful for the recognition and will continue to help our employees succeed."