At a time when the construction industry is looking to fill the ranks of baby boomers preparing to retire, there's some cause for concern that not enough young people are considering a career in the trades. Walbridge has been working with affiliates of the Michigan Building and Construction Trades Council, including MUST Careers, and the Michigan Construction Foundation to raise awareness of the industry's successful trade apprenticeship programs.
Mike Haller, Walbridge Group president, spoke on May 9 before the Michigan Construction Industry Skilled Trades Conference in Lansing. His message was that tomorrow's skilled trades workers need to begin training today and valuable outlets for them are registered trade apprenticeship programs.
"The tool to replenish the resource of craft professionals are registered apprenticeship programs," Haller said. "A 'college degree' is not what defines a professional who contributes to society and the community. But rather having great skill or experience does.
"Remember, the first step to success is love what you do," he added. "Be passionate about what you do. Passion will drive an individual to continuously improve, to compete, and to deliver successful results. It is our responsibility, each of us, to facilitate and unlock that passion in those searching for a career path."
Walbridge is fortunate to employ a number of people who successfully completed registered trade apprenticeship programs. Here are the stories of a few of them:

Jon Molnar
Senior Superintendent
Joined Walbridge in 2004
Trade Specialty: Carpenter
Sean Millward
Carpenter Foreman
Joined Walbridge in 1995
Trade Specialty: Carpenter
Mike Haller, Jr.
Superintendent
Joined Walbridge in 2004
Trade Specialty: Carpenter
Scott Smith
Field Supervisor
Joined Walbridge in 2014
Trade specialty: Millwright
Randy Auer II
Superintendent
Joined Walbridge in 1989
Trade Specialty: Carpenter
Ron Hankins
Superintendent
Joined Walbridge in 1990
Trade Specialty: Carpenter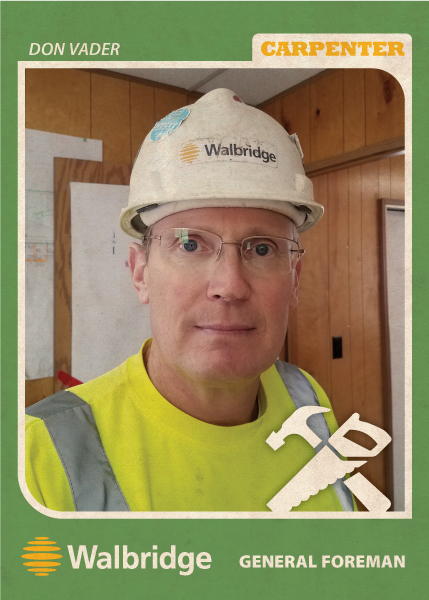 Don Vader
Carpenter / General Foreman
Joined Walbridge in 1996
Trade Specialty: Carpenter
Peggy Trumble
MEP Technical Manager, DIG Construction Services
Joined Walbridge in 2014
Trade Specialty: Master Plumber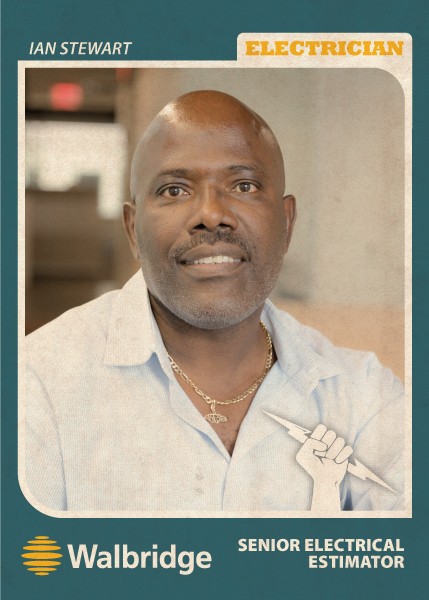 Ian Stewart
Senior Electrical Estimator
Joined Walbridge in 2015
Trade Specialty: Electrical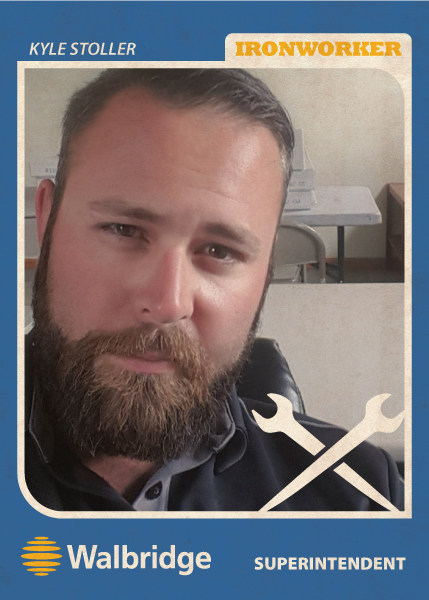 Kyle Stoller
Superintendent
Joined Walbridge full-time in 2016
Trade Specialty: Ironworker
When you prepared to exit high school, what career path were you planning?
Molnar: I enlisted in the Marine Corps during my senior year of high school. My intention at the time was to have a full-term military career. Thirty years.
Millward: Upon exiting high school, I planned on attending community college for criminal justice.
Haller, Jr.: My career choice, upon leaving high school, was to go to college. Even though I wasn't sure what I wanted to major in or study.
Smith: My plan was to go to work at a local steel mill close to home.
Auer: I had NO plan! I did like working construction with my father-in-law in the summers.
Hankins: Being a carpenter.
Vader: I went to community college for a while. It didn't agree with me so I joined the Army.
Trumble: I wanted to be a police officer like my dad, but I didn't do so great in school. I have been working since age 15, mostly in food service jobs. When I got into the City of Kalamazoo Water Department, I started looking into the private sector side of plumbing as a possible career.
Stewart: Two-year college.
Stoller: After 13 years in the martial arts, I was planning on joining the Marine Corps to teach hand-to-hand combat.
What got you interested in entering a skilled construction trades program?
Molnar:  My father owned a local millwork company, Nelson-Mill, in Southfield and I asked him for a job on a temporary basis, while I figured out what I wanted to do after my enlistment was over. He hired me on as an apprentice and enrolled me in the program. I knew nothing about the apprenticeship program, nor did I realize that it was going to turn into my career.
Haller, Jr.: I left school early because I was enjoying my time working in construction, more than I was in my classes. I didn't know which trade I wanted to go into, but I knew I wanted in. I eventually chose the carpenters.
Auer: During high school, I took vocational building trades for four years. During my senior year, my uncle, Ken Beaudoin, asked me if I wanted to come work for Walbridge as a carpenter. So, I started later that year.
Stewart: I was always fascinated with electrons and how they interact. I discussed options with a family member, who was already working in construction.
Did you have any family members or friends who worked in construction trades?
Millward: My father and cousins were in construction. They told me it was good work to earn an honest wage.
Smith: My uncle and cousin. Then, later my father would come to join the trades.
Vader: Just my good friend from high school. His family were carpenters.
Trumble: I had a close friend who was a union plumber. She took me under her wing and taught me how to solder and showed me about residential plumbing.
Stoller: Yes. I'm a third-generation ironworker. My grandfather, who passed away, my father and three distant cousins were all ironworkers.
What influence did they have on you and your decision to pursue an apprenticeship?
Molnar: My brother was a third-year apprentice at the time. He was earning a solid living and getting ready to buy a house. It was portrayed as a way to make a good, honest living and provide a good wage quickly.
Smith: I knew from talking to my family that I would be able to expand my basic knowledge of machinery and challenge myself in many ways. That made me want to join the trades.
Vader: I went into the trade with no construction experience. I worked hard to do my best so I wouldn't hurt my friend's reputation or mine.
Trumble: My friend pushed hard to get me into the Kalamazoo plumbing local, but they weren't taking apprentices during that time. So I went to East St. Louis and tried to get in there. It took 2-1/2 years, but I got in. My friend was elated. I thank her often for her encouragement.
Stewart: At family gatherings, there were always side conversations relating to construction; especially electrical topics, as most of them were electricians.
Describe your apprenticeship program:
Molnar: My Carpenter's apprenticeship is affiliated with the Detroit Carpenter's Union 687 as well as the international union. I spent four years in it and received a journeyman certificate from the U.S. Department of Labor.
Millward: I joined the apprenticeship with Walbridge and spent four years. I received a journeyman's certificate.
Haller, Jr.: I completed the Michigan Regional Council of Carpenters Apprenticeship Program. It was four years and I received a certificate.
Smith: My apprenticeship was with Local Union 2235 Pittsburgh Millwrights. I completed all four years and received a certificate/diploma recognizing me as a journeyman union millwright.
Auer: I was with Walbridge through my four year apprenticeship with Local 687. I received a journeyman certificate.
Hankins: I completed a four-year union apprenticeship program.
Vader: I completed a union program in four years. I received a certificate and won the carpenter state contest in my fourth year.
Trumble: I completed a five-year apprenticeship program in East St. Louis with Local 360. I have a journeyman's license, and masters and plumbers contractor's license.
Stewart: The apprenticeship programs take five years to complete. I was certified and also a licensed journeyman. I maintain my licensing status to this day.
Stoller: My program was for three years and my apprenticeship is union. I carry a journeyman ironworker's card. I belong to a mixed local that covers structural, reinforcing, rigging, ornamental, and machinery moving.
Did completion of the program raise your level of confidence?
Molnar: Yes. Being a school-trained carpenter increased my value as an employee. The breadth of knowledge I gained is recognized by employers throughout the region.
Haller, Jr.: No, since all of our projects are union projects. It wouldn't change anything. But in order to feed my family if I had to leave the Union, to work non-union, I know I would be significantly more qualified than the people I would be working with.
Smith: Yes. It raised my level of confidence because I was officially a skilled tradesman and the demand for them in the East was very high. Even when work was slow, I knew the phone would ring soon.
Describe the impact the apprenticeship program had on your career and life.
Auer: The apprenticeship showed me a larger view of what we do and that was a good stepping stone into the life I live.
Hankins: Just the ability to have a skill early on in life was good.
Trumble: It prepared me for a career as a plumber. I learned the ins and outs of my trade, and I made life-long contacts and mentors.
Stewart: My apprenticeship allowed me to understand, grow and excel in all areas of the electrical industry with a key focus on the safety side of things. It also allowed me to transition and advance to the various positions and levels I've achieved in my career.
Stoller: The apprenticeship was most definitely a pillar to my success today. It was a great training tool and has helped mold me into what I am.
If a niece or nephew, or family friend said they were thinking about entering an apprenticeship program, what would you tell them?
Vader: I'd tell them it's been a great career for me and my family. My son is now a union carpenter and he's doing very well.
Trumble: During the first 15 years of my career, I would tell young kids to go to college. The job was dirty, hot, dangerous and, frankly, not friendly for women. Now I say come one, come all. If you're willing to work for your paycheck, you can make a great living in the trades. The jobs are 100 percent safer than they used to be and women in the construction field are more common.
Auer: I would first encourage them to consider college, then I'd tell them about my experiences. And I'd talk about the pros and cons of the business. Overall, my experience has been positive. It's provided me and my family with a good life.
Smith: I don't know that I would recommend my trade to them. But, depending on their interests and skillset, I would most certainly encourage them to consider a career in the trades.
Haller, Jr.: You don't have to go to college to be successful, or even make enough money for a decent living. The skilled trades provide the opportunity to move up in the company and make good money. College isn't for everyone. Why spend money to learn, when you can be paid to learn?
Millward: I would explain the benefits and rewards and how it would help them secure work.
Molnar: I would be in favor of it, generally; of course, all cases are a bit different. Being a tradesman can be hard on the body if not managed properly. My advice is to also develop your management skills, finish your schooling, get a college degree – associates or bachelors – to add to your resume. That way you can transition into a management role as you get older.
Stewart: I would try to first understand their level of interest so as to direct him or her toward a trade that suits their interest. I'd help them understand the importance of the selected trade to the construction industry.
Stoller: I always try to promote the trades to my family and friends. I try to open their minds to all of the trade possibilities.